Is there really a Conspiracy For Good?
There is... when you make it real.
Tim Kring, Creator of the hit television show 'Heroes' tells how the big idea began, and where you can jump in.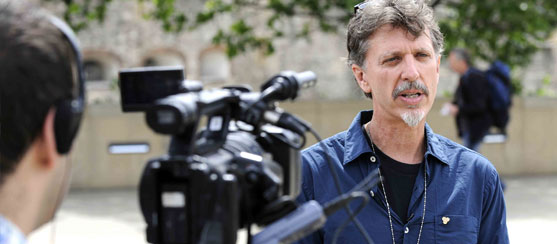 "A few years ago, I started thinking about an entirely new way to tell a story, far different from traditional TV. I didn't just want to talk about 'saving the world' in fiction, I wanted to create a narrative that spilled out into the streets. One that you could live inside of for a while. How cool would it be, I thought, to create a story that exists all around you all of the time? On your laptop, your mobile phone, on your sidewalks, as a secret message hidden in your favorite song or while standing at the bus stop on your way to work.
And, taking it further, what if your participation over a few weeks or months actually impacts the story's development and creates positive change in the real world because a philanthropic mission is integrated into the narrative itself?
The Conspiracy For Good is the culmination of this dream. This is the pilot project for a first-of-its-kind interactive story that empowers its audience to take real-life action and create positive change in the world. Call it Social Benefit Storytelling.
To achieve this, I need you to participate. Reality and fiction have to blur. Every story needs a villain and you will meet the villain in the STORY SO FAR section on this site. And every story needs a hero. That's where YOU come in.
As part of The Conspiracy For Good you will join a collective of thinkers, artists, musicians, and causes, creating a unified voice to fight the forces of social and environmental injustice. This is our site, where together we can follow the story and build a community that focuses on changing the world for the better, one person and one action at a time.
Welcome to the Conspiracy."
Tim Kring
Conspiracy For Good™
Plug yourself into the Conspiracy by joining these organizations and actions to do good in the real world. Your offer of time or resources to groups like these powers the Conspiracy for Good.
World Change Starts With Educated Children

Read a book. Give a book.

The Positive Place for Kids

Your Books are Wanted
Partners
Conspiracy For Good is created and produced by Tim Kring (the creator of Heroes) and his production company (TKE). The pilot project was produced in conjunction with Nokia who also provided the technology that members harness to stay connected and participate in the story. The Conspiracy For Good platform is powered by the OVI platform. The pilot was produced by The Company P.

There is no cost to join, and there is no purchase required.
Room to Read and The Pearson Foundation
The Pearson Foundation and Room to Read, global organizations dedicated to promoting and enabling education in developing countries, participated in the new social benefit storytelling experience, Conspiracy For Good (CFG).

Uniquely interwoven into the story, The Pearson Foundation and Room to Read became part of the Conspiracy For Good narrative operating alongside Nadirah, the main character, and participants to create real-world social and educational change.

Tim Kring, Nokia and Room to Read have partnered to establish five libraries in Zambia - one of which will be constructed at the Chataika Basic School located in the village of Chataika - and to fund one year of holistic education for 50 girls in Zambia.

Additionally, a one-for-one giving campaign has been created and is ongoing at wegivebooks.org whereby reading a free digital book online with a child, Pearson will donate a new paperback or hard-cover English-language book to Room to Read libraries across Zambia.
Nokia
About Nokia
At Nokia, we are committed to connecting people. We combine advanced technology with personalized services that enable people to stay close to what matters to them. Every day, more than 1.3 billion people connect to one another with a Nokia device - from mobile phones to advanced smartphones and high-performance mobile computers. Today, Nokia is integrating its devices with innovative services through Ovi (www.ovi.com), including music, maps, apps, email and more. Nokia's NAVTEQ is a leader in comprehensive digital mapping and navigation services, while Nokia Siemens Networks provides equipment, services and solutions for communications networks globally.

About Ovi
By combining Ovi by Nokia services with smartly designed Nokia devices, the result is a uniquely enriched mobile lifestyle. More than 250,000 new users sign up for Ovi every day, joining 165 million people in virtually every country worldwide who already experience Nokia services. Ovi comes to life with experiences such as: a rapidly growing content store for the easiest access to popular apps and games; the world's best maps; millions of music tracks; and great messaging capabilities to connect with people who matter most. A collection of health, education and agricultural information services called Ovi Life Tools are available in remote areas of China, India, Indonesia and Nigeria. In addition, Ovi Mail is popular among those without PC access, and a commercial mobile banking service, Nokia Money, has been created with India's Yes Bank.
Company P
Conspiracy For Good's London pilot was produced by Stockholm's award winning production company The company P. The company P's philosophy is to create participant-centered productions and entertainment together with the audience. Their entertainment products are built on the convergence between live action games, television, social media, mobile communication and online games. A P production becomes a new reality, within which to grow and play.